UNDERSTANDING SUBTLETY IN COMPLEXITY AND CHAOS
NDCAB0001 - Transmitted 14 March 2020
TRUMP FALSELY CLAIMS GOOGLE DEVELOPING COVID-19 SCREENING WEBSITE [THE INDEPENDENT] ❂ MASS MONKEY BRAWL HIGHLIGHTS CORONAVIRUS EFFECT ON TOURISM [THE GUARDIAN] ❂ US MARKETS SURGE THEN RETREAT AFTER WORST MELTDOWN SINCE 1987 [WASHINGTON POST] 
---
It's hard to tell whether the New Design Congress has cursed luck or heightened relevance in unstable times. We established ourselves just two months before the beginning of a global health pandemic and presented Will Design Ethics Save Software? as a keynote at Devon, Osaka just days before Typhoon Hagibis made landfall nearby.
Against stifling pre-storm heat, we presented two of the New Design Congress' core arguments publicly for the first time: First, that digital infrastructure is mistakenly believed to cause crisis and consequences, and secondly, that until digital infrastructure designers step back and sincerely evaluate our conceptual tools, our desire to react to observed issues via solutionism allows these problems to reemerge in new and accelerated ways.
---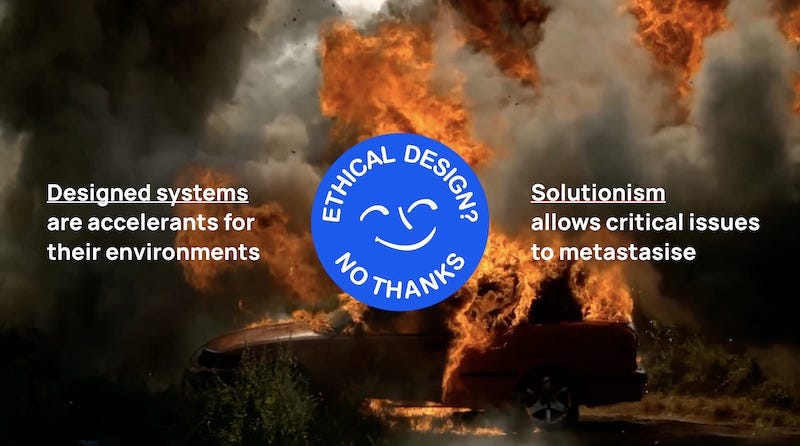 👁 📽 WATCH WILL DESIGN ETHICS SAVE SOFTWARE? FROM DEVCON, OSAKA
---
Today we are gripped in a period of tremendous uncertainty. Between media saturation, bad actors and a looming global health threat, the idea that one can find any kind of clarity or prediction in this moment seems impossible.
In Leverage Points: Places to Intervene in a System, the environmentalist and systems theorist Donnella H. Meadows lays out a compelling and tangible list for identifying moments in which a system can change, both via paradigm shifts and through pressure vulnerabilities created in – and by – the overall system. The entire essay is excellent – a straightforward, engaging introduction to systems theory. We are particularly struck by her closing paragraph:
Magical leverage points are not easily accessible, even if we know where they are and which direction to push on them. There are no cheap tricks to mastery. You have to work at it, whether that means rigorously analyzing a system or rigorously casting off your own paradigms and throwing yourself into the humility of Not Knowing.
In an era of endless hot takes, to step back and define our systems' weaknesses, strengths, leverage points and outputs is to develop a greater understanding of how these systems are designed and to what end they are used, both overtly and unintentionally. This is the antithesis of rapid fire response. It offers clarity and understanding beyond the reactionary, allowing for the anticipation of sudden shifts and the potential for change.
The comparison of Covid–19 to the 1918 Spanish Flu pandemic and resulting financial crisis is everywhere right now. Between the potential human toll and the fragility of global markets, this seems apt. An overlooked difference is the vulnerability of older individuals versus the healthy workers of the early 20th century. These two pathogens may seem similar, but the human dynamics are very different. Should Covid-19 spread, it's economic effects won't be felt because of the sudden disappearance of a population of young workers, but in areas that trend older. 
When a health crisis claims the young, the socially vulnerable and the working class, we have the Great Depression. But we are now facing a health crisis that may well claim the lives of not just the older precarious or vulnerable population, but the aging elite and those in positions of power. This is unprecedented and may well lead to profoundly different outcomes. 
Donella Meadows also co-authored The Limits to Growth with Dennis L. Meadows, Jørgen Randers and William W. Behrens III and others. We also recommend it. She's not alone in bringing clarity to chaos – some other perspectives we think matter are:
---
EVENTS
🗣 We're looking to present our work online as videos and livestreams during this period. Are you hosting an event? Do you know of one looking for proposals? Please contact us by replying to this email or emailing hello@newdesigncongress.org.
JANUARY 24, 2020: CADE DELIVERS OUR SECOND WORK: OUR ARTIFICIAL WILDERNESS: VIRTUAL BEAUTY AND ECOLOGICAL DECAY IN PARTNERSHIP WITH NEW MODELS. – BERLIN, GERMANY

FEBRUARY 06, 2020: CADE DELIVERS AN UPDATED VERSION OF WILL DESIGN ETHICS SAVE SOFTWARE? AT FIGMA'S FIRST CONFERENCE, CONFIG – SAN FRANCISCO, USA

FEBRUARY 15, 2020: CADE ENTERS SELF-ISOLATION – BERLIN, GERMANY

FEBRUARY 17, 2020: ROSE REGINA BEGINS AN ON-SITE RESEARCH PROJECT ON NETWORKED SOLAR PANELS - ST LOUIS, USA

MARCH 08-09, 2020: THE TREATY OF FINSBURY PARK 2025, A SUMMER EXHIBITION IN PARTNERSHIP WITH FURTHERFIELD IS ANNOUNCED AND WORKSHOPPED WITH FINSBURY PARK STAKEHOLDERS – LONDON, UK

MARCH 11, 2020: ROSE REGINA DECIDES TO SHELTER IN PLACE, ENTERS SELF-ISOLATION – ST. LOUIS, USA

MARCH 13, 2020: EDWARD ENTERS SELF ISOLATION – BERLIN, GERMANY

MARCH 19-21, 2020: CADE TO DELIVER WILL DESIGN ETHICS SAVE SOFTWARE? FROM SELF-ISOLATION WITH IAM-INTERNET'S ONLINE CONFERENCE – BARCELONA, SPAIN
---
ABOUT US
We are a research group developing a nuanced understanding of technology's role as a social, political and environmental accelerant.
We are:
Cade Diehm (@helveticade)
Edward Anthony (@EdwardNDC) and
Rose Regina Lawrence (@roseregina)
We have guidance and support from Georgia Bullen and the Simply Secure team, for which we are incredibly grateful. We are a fiscally sponsored project of Simply Secure, a US 501(c)3 nonprofit. 
We actively seek consulting and funding partners. For all enquiries, simply reply to this email, or email hello@newdesigncongress.org.